There are a handful of Wedding Traditions We Skipped at our Wedding. Brandon proposed to me at the beginning of 2018, I already had a few traditions in mind I knew we wouldn't be incorporating. Being a wedding photographer, I've been to a lot of weddings over the years and had mental notes of things I liked and wanted to skip. Initially, I knew I wanted a smaller wedding, and would only be inviting my closest family and friends. We ended up having 75 people which was small, but honestly felt like a solid amount of people.
All the photos in this post, aside from Honeymoon were taken by our wedding photographer Becca Lea.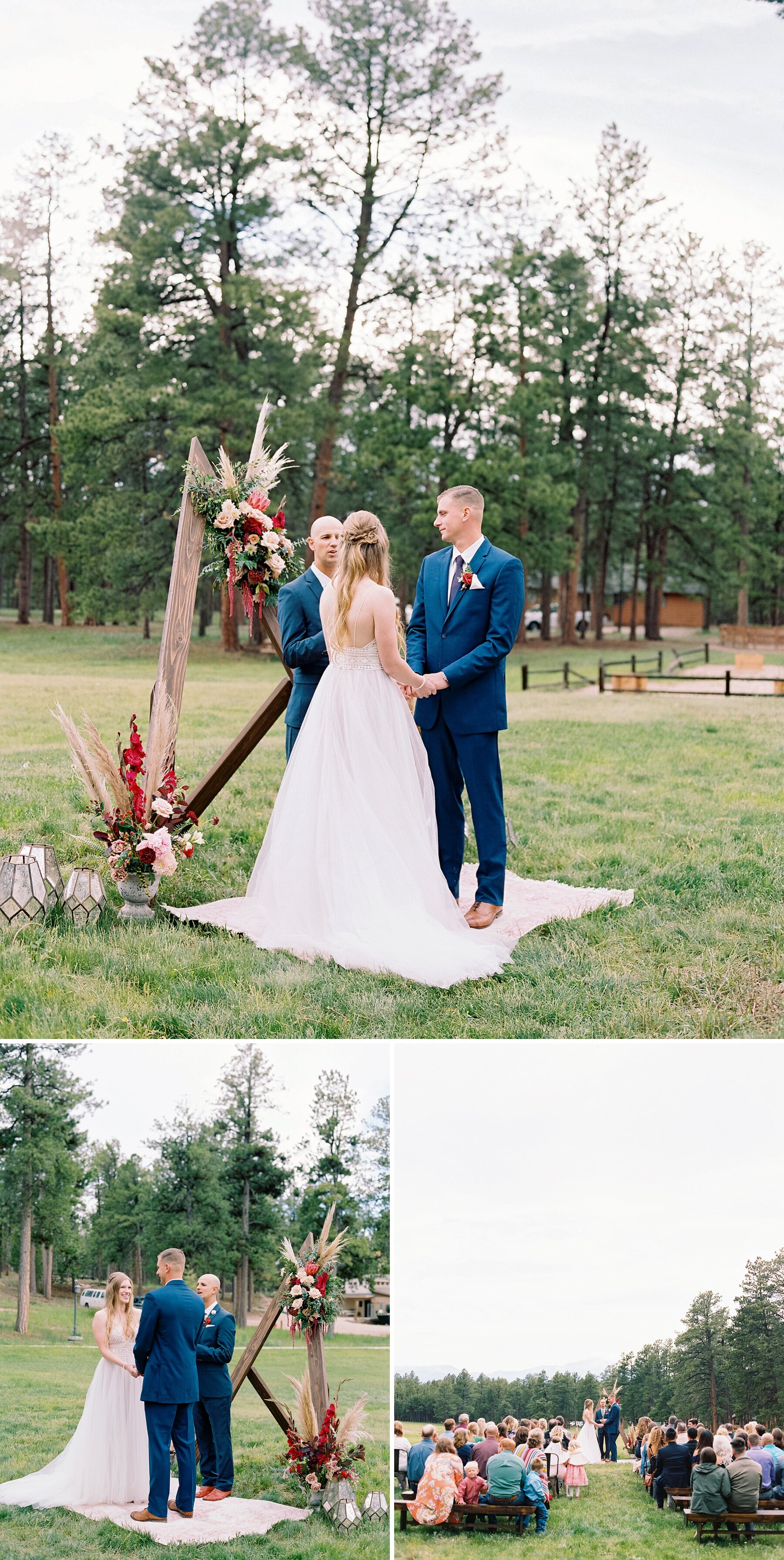 No Wedding Party
We didn't have any bridesmaids or groomsmen at our wedding. We also didn't have any flowers girls or ring bearers. Of course we both invited our closest friends and had my young cousins there too, but I had a few reasons behind this.
I didn't want to decide and coordinate what everyone was wearing. Simple as that. Plus, most of Brandon's groomsmen would have been guys in the military, and their schedules are always unpredictable. I also didn't want my friends to have bridesmaid things as an extra expense and wanted them to put their money toward traveling to Colorado.
Another deep and kinda weird reason, is that though our closest friends have been with us at certain seasons of our relationship, they aren't a huge part of Brandon and I's everyday relationship. And I know that's how it is for majority of people, but I got a little weird with my thinking on this.
We did three years of long distance and both of us living in different states. Our relationship has been something no one else has really influenced. We're together because of our deep love and commitment to one another. Commitment to one another that helps us get through months apart due to long distance and Brandon's job. And that's what continue to keep us always working to be together. Our ceremony focused on us since we were the only ones up there.
Cons to this: Really the only con to this is not having the typical bridesmaids, groomsmen, and wedding party photos. I wish I had more photos with my friends, but that's the nature of a wedding day if you don't have a wedding party. Brandon was also slightly sad about it and wanted groomsmen, but I pretty much stuck my foot down on this one. My friends still hung out with me some during the morning while I was getting ready and Brandon hung out with his family/friends too.
No Bouquet or Garter Toss
This is a tradition that is fading away. Some people do it, but lots of couples also opt out of this. For me it's something I didn't want to waste reception time doing. I didn't want to add on a bouquet to toss to my floral costs, and no way was I tossing my actual bouquet. I also didn't want to wear a garter nor did I want the visual of Brandon sneaking up my dress to toss some sweaty garter out to men who really don't want the thing.
Chocolate Cake for the Bride
This really isn't a tradition skipped since lots of couples are having different types of desserts now.  I've known for a long time is that when I got married I would have a chocolate cake for my wedding cake. Chocolate cake is my absolute favorite cake/dessert in the entire world (just ask my family) and I always have one for my birthday. One big priority for me was that my wedding cake actually tasted good and didn't have the fondant icing too.
At a wedding I worked one summer, Nothing Bundt Cakes provided the dessert and I was sold. I opted for a "naked" chocolate bundt cake and then had bundtinis (basically little cupcakes) of various flavors for all my guests! I loved this choice and it was a hit! Also, Brandon is not a sweet dessert guy at all, so he really did not care about this part. Brandon requested red velvet bunditinis and we made it happen.
Something borrowed & blue
I didn't give any extra thought or care to the whole something old, something new, something borrowed, something blue saying. My mom surprised me with a pearl bracelet made from one of her grandmother's necklaces. It was a special surprise. Otherwise, I just wore what I wanted to wear!
Wedding Guest Favors
I also chose not to make/buy/give our wedding guests a specific wedding favor. In my mind, we provided our guests with dinner, drinks, cake, a photobooth, and a fun evening. Over my time as a wedding photographer, I can't tell you how often I see weddings favors for guests left on tables at the end of the night. Wedding favors are easily forgotten by the guests when they leave for  the night.  While sometimes it favors work out, it can be a waste of time and money. It was an easy skip for us!
Gifts for each other
Speaking of gifts. Handwritten letters. A nice necklace or fancy watch. I've witnessed lots of couples give each other gifts of some sort on their wedding day. It turned out to be something we didn't even think about doing, so we didn't. Receiving gifts and giving gifts are at the bottom of our love language list!
Leaving Day After Wedding for Honeymoon
This isn't super traditional and might not even count, but so many couples jet off the day after their wedding on their honeymoon. We waited 4 months after our wedding for our honeymoon. We didn't even have our honeymoon booked until like a month after the wedding. There were two reasons for this. First, our wedding was a destination wedding for everyone, but Brandon and I. We both had family and friends coming into town and we wanted to spend as much time with everyone as possible. We had people at our house before the wedding and some family stayed a few days after, so it was really nice to stick around.
I literally spent the afternoon after the wedding at a trampoline park with my Mom, Mamacita, friend, and my younger cousin haha. The second reason being that as a wedding photographer I had actually booked a wedding the following week after ours (Greg & Tracey's!). And with Brandon being in the military, I was just hoping he would be able to be at the wedding. I'm serious. It all worked out evidently.
Overall, we were super glad we didn't take off right after the wedding and actually waited to go on our honeymoon. It gave us time after the wedding to reset, and to then find a good time that worked for our work schedules for us to go. P.S. we highly recommend Sandal's Regency La Toc Resort in St. Lucia!
Just a note
This post isn't intended to offend anyone or for anyone to think I didn't like a certain part of their wedding. I simply knew a few things I did and did not want on my wedding day and that's the beauty of planning your own wedding! You can make it your own. Keep the traditions you love. Skips ones that you aren't a fan of. Maybe even start some new ones! So I wanted to give other brides some assurance if they're thinking of crossing off some traditional things.